Course Feature
◆Flexible class time and content.
◆Individual class or 2 people class is available.
✽Students' levels have to be the same for 2 people class.

Class Schedule
◆Each class is 100 minutes long. (10 minutes break between every 50 minutes.)
◆Please check out the chart below for available class time.
Course fees & Required documents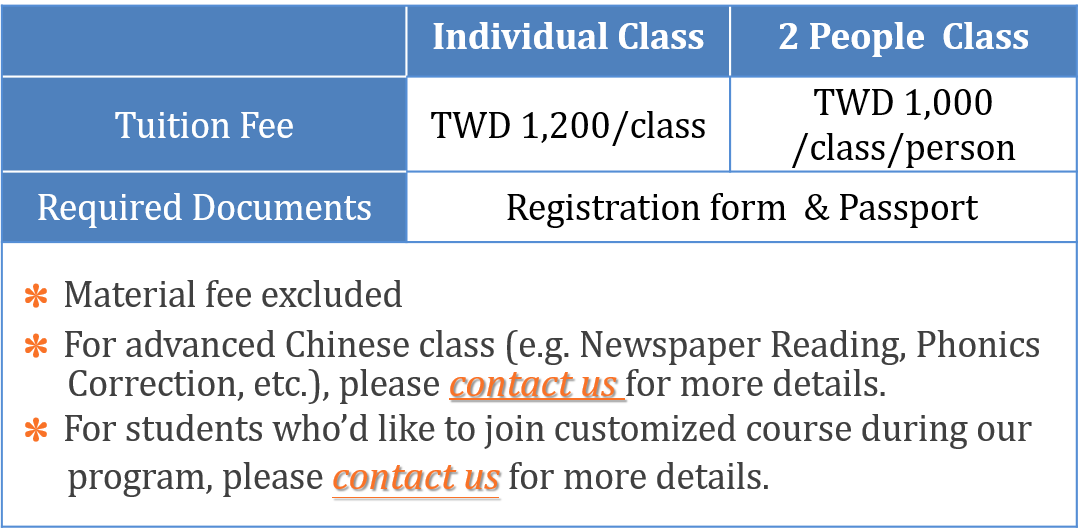 Remarks
◆Students have to pay the tuition before the course starts.
(Pay through bank transfer or pay in cash at MDN Language Center front desk.)
◆Students must have valid visa or Alien Residence Certificate (ARC)
◆Make up class is available for students who ask for leave at least a day before the class day.
◆Make up class has to be done before the end of the term. Undone make up class will be regarded as a waiver.
◆Any cancellation or absence in make up class will be regarded as a waiver.
◆Tuition refund policy is based on the regulations of the Department of Education of the Taipei City Government.
Enable GingerCannot connect to Ginger Check your internet connection
or reload the browserDisable in this text fieldEditEdit in GingerEdit in Ginger